How many realtors does it take to paint a home in 4 1/2 hours?  Only five if you're from the hard working TIGAR board of realtors. Originally a larger crew that got rained out, Corona area realtors painted the home of Sara on the 20th.  She lives in Corona's Countrywood Estates mobile home park and desperately needed a fresh coat of paint on her mobile home to avoid citations.
Realtors came from the TIGAR board of realtors were happy to help Sara.  With only five volunteers, painting a double wide mobile home is quite the challenge. But this group took it on with smiles and great attitudes.  They all grabbed extension poles and made short work of the walls.  Painting trim is always troublesome, but Suzy and Cornel  got on ladders and painted at least 80% of the trim.  The mighty five did an amazing job.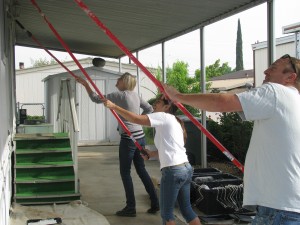 Sara brought out water and chips to the group as they were painting. She also brought out photos of her family to show them how appreciative she was and who they were painting for when they come to visit her home.  The highlight of the day for us at Habitat Riverside is to see how the Corona Realtors helped and touched the homeowner in such a simple way by painting their home.  Thank you, Corona Realtors!