I am always impressed by the commitment some of our volunteers have. Twelve volunteers joined a partner family to paint Maria's mobile home in Jurupa Valley Thursday morning. Habitat for Humanity Riverside was surprised to see that many of the volunteers were morning people, eager to get started on the A Brush With Kindness project. I have to commend Cynthia and Adam who got up early to take the bus to the site. Adam was a trooper and got up around 5am to travel from Moreno Valley. Indicative of a truly dedicated volunteer, Adam has volunteered with us several times before. Jeanie, another person in good spirits, ventured the morning traffic to get to us from Lake Arrowhead! I told her that she had a Habitat affiliate closer to where she lived, but hopefully we can keep her.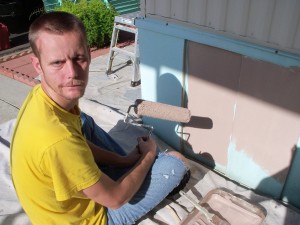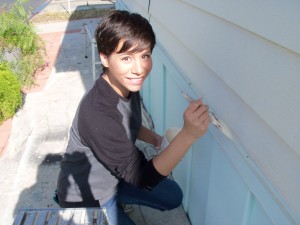 There were a few that needed a little help to wake up. While Nichelle accepted Maria's offer of coffee, others took matters into their own hands. Kim was perhaps the most energetic of the bunch. I think it may have been the drink she was having—cream and sugar…with a bit of coffee. Her coffee was strangely a similar color to the paint we were using on the house. Whatever it was, it made her enthusiastic.
Once the group split into their different tasks, it did not take long before Adrianna, our official DJ, played some classics from her phone to keep the volunteers motivated. Bert was mellow while she delicately painted around the letters on the mobile. She was a bit camera shy, but I was able to sneak in some pictures of her smiling! Emily and Nichelle had a bit of trouble with the extension poles, but they soon got a hang of it and joined Adam and Ralph to paint car port side of the house. After Cynthia, Jeanie, and Chris finished painting the back wall, Marilyn, enthusiastic and dedicated, endured the heat of the sun, climbed a ladder, and took care of the top part.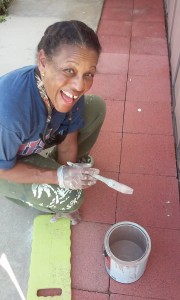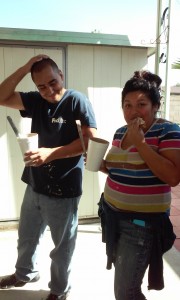 Halfway during the day, Martha brought out some sodas and tuna sandwiches to nourish the volunteers and give them an extra boost of energy. The volunteers did not hesitate! Who can resist free food?
Daniel, the Project Coordinator, and I thought the awnings were going to be tough to take down and paint, but it didn't turn out that way. Poor Hector. Daniel and I kept asking him to help us with work that required height. With Kim and Hector's help, we were able to bring down the awning. Because they were done with their walls, Hector, Ralph, Cora, Nichelle and Emily went the extra step to clean and paint the awnings. Kim, never losing any steam, sipped on her coffee, climbed ladders, and painted the trim.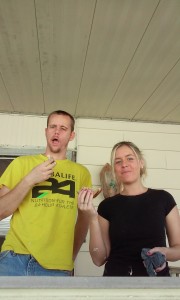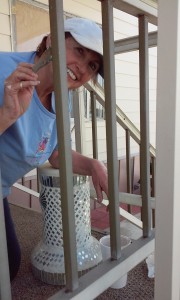 Maria loved the work that the volunteers did! She was appreciative and brought out some small, coffee-flavored candy for us. When it was time to say goodbye, Cora did not hesitate to take another sandwich. Who can blame her? Hard work makes people hungry
Even though the group was small, the enthusiasm and dedication of the group allowed us to finish the project quickly. It was a job well done and we hope that this great group of volunteers come to help us again.