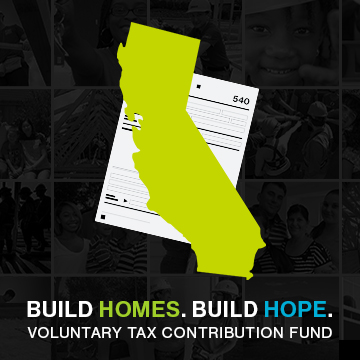 With as a little as $1, California tax filers have the opportunity to make a tax-deductible donation to the Habitat for Humanity Voluntary Tax Contribution Fund on their 2017 California tax return by April 17, 2018. Donations generated through this fund make homeownership a reality for the many California children, families, and veterans who are caught in the housing crisis and are unable to afford a safe, stable home.
The Habitat for Humanity Voluntary Tax Contribution Fund is line 437 on the California Resident Income Tax Return Form 540. Detailed steps on how to contribute – whether you file taxes on your own or receive assistance from a tax preparer – as well as a donation reminder form can be found at www.habitatca.org/taxfund.
The Voluntary Tax Contribution Fund has generated more than $360,000 to support families across the state, build stable homes in communities where they work and where their children attend schools, because contributions received from California tax filers in our service area are distributed to our local affiliate.
To Donate on your 2017 CA Tax Return:
1) Find the Voluntary Contributions list on your 540 CA tax return form
2) Find line #437 "Habitat for Humanity Voluntary Tax Contribution Fund"
3) Simply designate how much you would like to donate and help us build California!