With just a few months before we start our Veteran Enriched Neighborhood build, we are fortunate to have 6 servicemen the 163rd Reconnaissance Wing join us to paint the home of a senior citizen. These men are part of the CA Air National Guard stationed at March Air Reserve Base. They came to volunteer with Habitat because the leaders of the Air National Guard called on service members to give back to the communities they serve. Usually we talk to some of our volunteers to see why they joined us, but I wanted to learn a bit more about these servicemen as they went beyond their call of duty to help their community.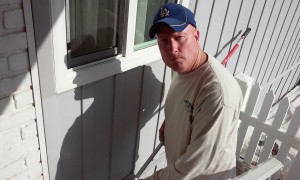 Paul, the most senior of the members, started the day with some sunscreen on his face. I thought it was paint at first, but we hadn't even opened the paint buckets yet! I guess he was just worried about getting sunburnt. We gave him a hard time about it when we actually started painting. I learned that he had served active duty in the Air Force from 1988 to 2012 and then went into the reserve. He has been serving longer than I have been alive! I could tell that he was a dedicated person because in 2010, he received his Bachelor's degree in Professional Aeronautics, something that he had been working on since 1989. His work et hic was commendable and the group respected him…except when Jay said, "Man, you're old!" when he found out how long Paul has served. Paul had volunteered before and felt that coming out today gave the group an opportunity for building morale among the group.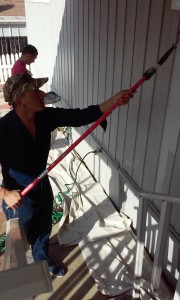 Jay helped Paul on the back of the house before the sunlight became too strong (and Paul's sunblock became ineffective). It seemed like he had a bit of trouble with the extension poles to get the highest part of the back wall, but once he figured it out, I was able to learn a bit about him. He enlisted in Dallas in and after 3 years went into the Reserves. When he was in Bahrain on his deployment in Afghanistan, he volunteered at one of the monthly morale events as a DJ. Although he is not from California, he still calls it "one of my homes."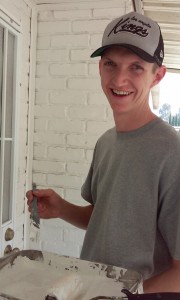 Kris made an entrance on his motorcycle. I was confused when the others called him "Avatar", but when I asked him about it, he responded with, "Just loo k at me" pointing at how tall and skinny he was. I guess he had a point. I learned that Kris enlisted in 2012 and lives in Hemet. Volunteering wasn't anything new for him because he has helped before at homeless shelters during the holidays serving dinners, and hiding eggs for the kids during Easter. He felt that coming out today to help was "Good to see each other and get together outside of work to do something in the community".
Later in the day, Julie, a member of their Public Affairs office, drove from San Diego to join us. She helped me talk to the volunteers and gathered some notes and pictures for their newsletter. After we were done taking the notes, she didn't need much convincing to stay and help us paint.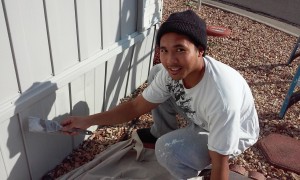 Loreto was quiet most of the time and dedicated himself to completing the trim around the house, not an easy task when the sun is glaring. Sometimes it's the quiet ones you have to worry about. When I asked him why he came in to help, he wittingly replied, "I didn't want to get fined." (Some of you may get the reference.) Loreto was originally from Northern California but went to Nellis Air Base in Nevada where he was active for four and a half years. He hasn't done volunteer work since he has been in the Reserves, but he has been doing flight training.
Mario was eager to finish the day's project quickly because he was expecting for his baby boy to be born at any moment. He was still debating on whether to call him Enoch or Caleb. I hope that while he was painting the patio he had a chance to think about it. Mario enlisted in 2007 and like the others, he felt close to the others from the group and enjoyed the opportunity to work with them to give back to the community.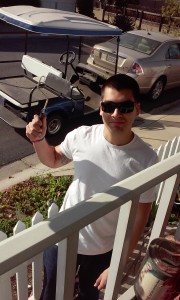 Nick was the one who contacted Daniel about coordinating the A Brush with Kindness (ABWK) day with the men from the weapons shop. We were the third group that he called (maybe we should have been first), but he chose us because he knows that Habitat for Humanity has a reputation for giving back to the community and ABWK was a perfect set-up for their needs. Nick is originally from Alabama, something we noticed right away because of his accent, but because he has been here for 4 years, California is like another home for him. He has been in the service for 15 years, longer than most of the others in his group.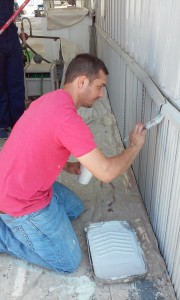 Even though the Air National Guard leaders at the Bureau challenged them to volunteer in the community, Nick felt that it was important to represent the military. Riverside and Moreno Valley are "not [his] community because [he] lives an hour away from the base, but it is [his] base's community." He wants the community to know that the military is not just a "war-making machine", but also a group dedicated to serving their immediate communities and "taking care of our people".
This group was a special group. Because they work together at the base, their camaraderie was evident. They worked well together and I could tell that they really enjoyed volunteering with us. They were able to accomplish in less time what a group twice as big would normally do! Perhaps if I didn't have Julie around to help me with the "journalism" work, I may have not been able to get these stories. I am glad that I had the opportunity to speak with these servicemen who demonstrate what it means to be a citizen soldier and serve their country and communities.