This past Saturday we were blessed to be joined by the University Eastside Community Collaborative's (UECC) Americorps, and other volunteers, to help paint two mobile homes in Riverside.  With close to 40 volunteers, this project was no sweat; everyone had a fun time and both homeowners were exceptionally pleased with the results!  Just to provide some background on the UECC program, it was started in 1994 as a response to the crime, violence, and poverty plaguing the Eastside Riverside area.  Primarily funded by Americorps, the program provides tutoring, academic support, and community services to local youths.  Their mission to improve the lives of young people in the Eastside Riverside area supports academic excellence and community engagement, and we were happy to team up with them on this project.
The first of the two mobile homes that were being painted was painted light brown with dark brown trim.  This was a double-wide mobile home which required a ten-foot ladder to paint all of the faschia boards–luckily we had plenty of brave souls who didn't mind working at such heights.  We also painted the doors and shed.  While it had rained pretty hard the night before this ABWK, the bright sun and crisp wind helped dry the mobile home walls quickly, making for a perfect paint day.  Since we had so many volunteers, two-thirds of the group painted this house first.  Once we completed this home (which was around 10:30 am), we all switched over to the second mobile home to help finish it.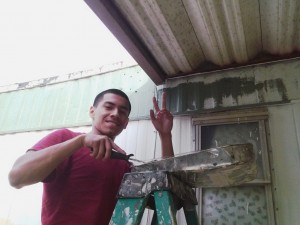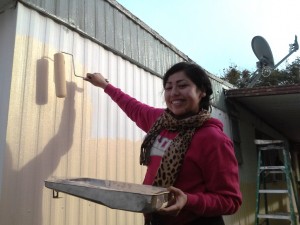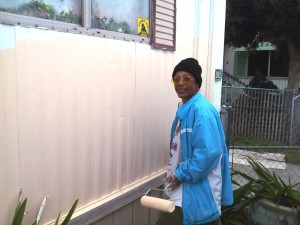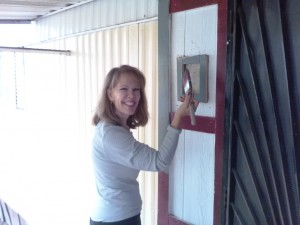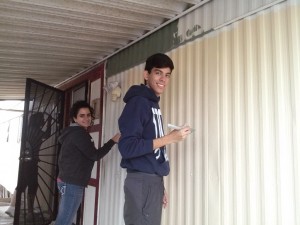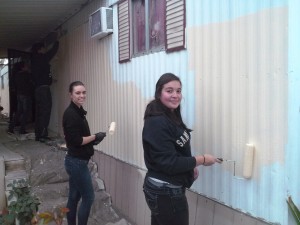 The second mobile home was painted yellow with green trim from being all white with red trim.  The colors definately made a big impact on this home's visage!  This mobile home was single-wide, so it was much quicker to paint.  The homeowner was so happy to have all of us at her home that she made us hot chocolate (Ibarra) and cookies.
We completed both homes around noon.  After taking our group pictures, we bid adieu to the homeowners and our new UECC friends.  We plan on working with UECC in the future and will be joining them at the RAAHS Inc. MLK Walk-A-Thon January 19th.