Two volunteer groups spent a Saturday morning together to lend a helping this past November 13th! Sandal's Church, and Quorum both brought a handful of volunteers to assist Habitat for Humanity Riverside with A Brush with Kindness in the Jurupa Hills Mobile Home Park. After some unexpected rain earlier this week, the two volunteers groups meet up with Habitat for Humanity Riverside in an effort to paint two homes which were in much need of a new coat. Both groups meet at the clubhouse parking lot of the Jurupa Hills Mobile Home Park in the peak hours of the morning, enduring  the bitter cold, all to offer assistance to those in need. Volunteers listened intently on a brief safety overview, outlining procedure on the equipment and protocol for using a ladder securely.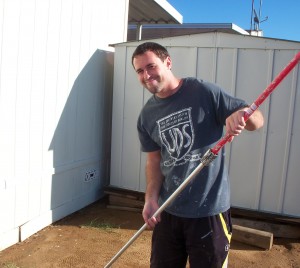 Once both volunteer groups arrived to the first home, they were split up and began their work at once. With no pause, the teams grabbed brushes and rollers and worked flawlessly! One volunteer, an experienced painter, circled the house and offered tips to some of the newer painters, demonstrating a skill that must have taken years to hone. Both groups meshed perfectly, working side by side with no obstacles. The teams were smart to disperse around the house focusing on areas that were not affected by the rain. As the groups spread around the house, the water evaporated and the groups took advantage and applied a fresh coat as soon as possible. Within a few short hours, both groups finished the first house, and were off to the second.
Now familiar with procedure, the groups sets tarps around the house, poured the paint and dispersed efficiently. A handful of volunteers who had no fear of ladders assembled around the trim of the house and applied a fresh coat of a vibrant dark brown paint. While the trim was being applied, a number of volunteers tackled the face of the house! All in all both members did a beautiful speedy job on both homes! The work that the volunteers had done was clearly reflected on the faces of the grateful home owners!
On behalf of Habitat for Humanity Riverside, we'd like to thank Sandal's Church, and Quorum! We hope to see you volunteer again!