Saturday, November 24th marked another weekend Ramona High School's Habitat for Humanity Chapter brought in volunteers to lend a helping hand! Arriving together on the chilly November morning, the high school chapter assisted Habitat for Humanity Riverside's A Brush with Kindness. The students stepped out of their carpool van to greet the home of June, in the Mission Village mobile home park. What stood before them was a beautiful home that was clearly cared for with a lot of love, however, due to June's fixed income, her home was in dire need of a new coat of paint.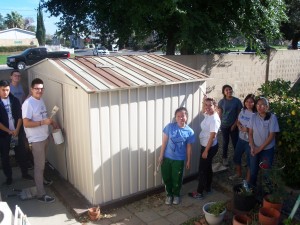 These volunteers knew that this was not simply a house, but someone's home. With this in mind, all the volunteers were relentless in their goal to reach out and help! As they split up into groups and began to paint the home, no obstacles slowed their progress! One volunteer even wedged herself between a hedge and the home to paint a spot that was otherwise unreachable! Another volunteer from Ramona remarked that he had recently retired from work, yet he still made time to help the community! After a few hours of work, the volunteers had completed painting June's home, and even had time to paint the remaining sheds!
The stunning, newly painted home that was left as a testament to the volunteers hard work, created awe to all those passing by. The volunteers were quick and efficient, and showed tremendous spirit! Not one complaint was heard nor was a frown ever displayed!
On behalf of Habitat for Humanity Riverside and June, we would like to thank all the volunteers from Ramona High School's Habitat for Humanity Chapter! We look forward to seeing them again!