Vivent Security Systems technicians partnered with Habitat for Humanity Riverside to paint Mary's home in Moreno Valley's Sky Trail's Mobile Home Park. Mary is a senior living on a fixed income and can barely cover her living expenses let alone afford to pay for repairs. The park manager contacted Habitat for Humanity Riverside to help Mary with the side stairs and
a much needed paint job. The side stairs to her home needed to be reinforced and a railing added for security.
Brayson the team manager, recruited 6 techs from San Diego, Inland Empire and Arizona to help repair Mary's home. Brayson the good team manager that he is made sure no one skipped the most important meal of the day by bringing breakfast burritos. A devotion was said before the techs broke up into groups of 2 taking care of the rear and long sides of the home. The 6 volunteers Brayson, Robert, Ross, Tito, Zack and Larry wore matching grey shirts with "Helping Families in Need" very fitting with our A Brush with Kindness program.
Larry brought his daughter Alexis along to help paint making it a great bonding experience between the two. The day started to get hot but the volunteers were able to finish just a little past noon.  The side stair railing is being built off site and will be installed next week.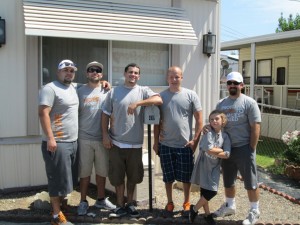 Thank you Brayson and your Vivent tech team, you did a great job working on Mary's home. She loves the new look and says it makes her feel like it is new again.  Job well done guys and gal!